Hi, I'm Adrianne, and I blog over at Happy Hour Projects, where I focus on quick and easy projects that can be done in an hour or less, usually with things you already have on-hand. I'm so happy to be a guest at The Intentional Momma today! Brooke always has fabulous activities to do with your toddler!
Now, my daughter is not-quite-toddling yet. This is my little cutie (and me):
So today I am going to share an activity that you can do with your kids at any age – hand (and foot) print art ideas!
Ever since she was born, I have been so enamored of her tiny little hands and feet. You know what I mean, right?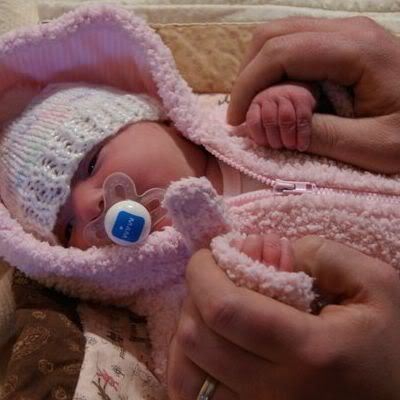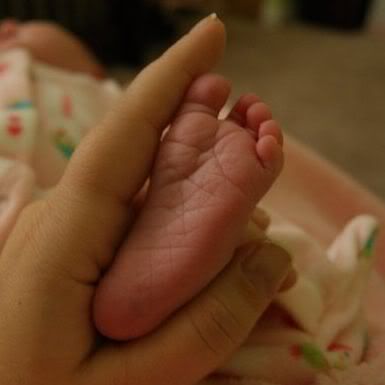 She is growing so fast, I want to keep as many little memories as I can!
Painting up your baby can be a little scary if you haven't done it before, I know. It really does work best with two people – but you can still manage if it's just you! Let me show you a few of the prints that we have done so far at home: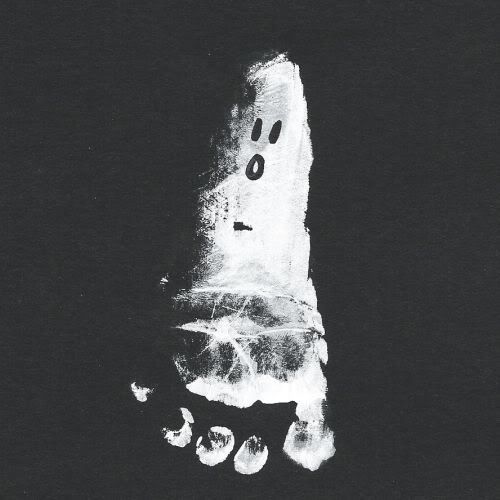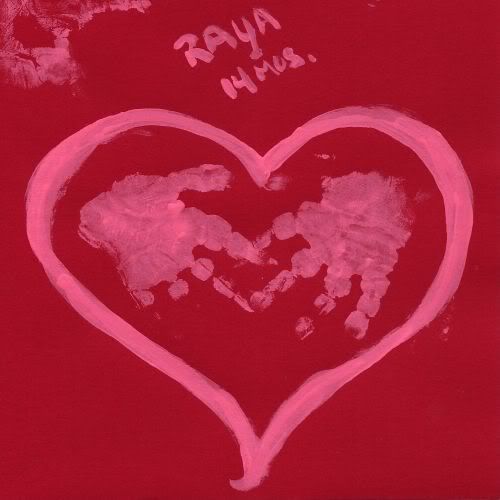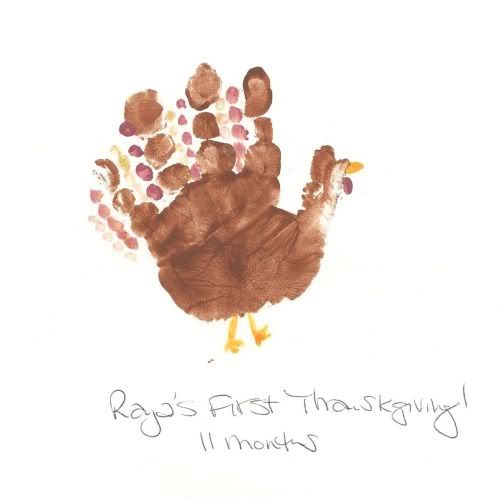 Ok, so neither of us are booking any art shows in the near future. But they are so precious to me!
I'm going to give you a few tips today that I have learned from gettin' messy with my baby girl, and to share some more hand and foot print ideas that you might like to do with your kiddos!
First of all, you have to embrace a few truths:
You will get paint in places you don't want to, so a good place to do this is outside if you have cooperative weather, or your mud room or kitchen – someplace easy to scrub down – if you have to do it indoors. When I'm feeling brave (or if I have a second set of hands to help me!) I will let Raya paint in her high chair. Make sure what you're both wearing can be quickly and easily washed, or you don't mind if it gets stains. Just putting newspaper down won't cut it – especially if your little one is at an age where newspaper is extremely interesting to crumple up. Yes, I know this firsthand.
Be ready with washcloths. More than one. I draw a bowl of warm water when I get started, and toss in 2 or 3. I also draw a bath, where she goes immediately after we are done. If your child is old enough to wash their hands at the sink, that will probably simplify things quite a bit, but that's not an option for us just yet.
The younger your child, the more prints it will likely take until you get a "good" one. Be ready with about a dozen sheets of paper and ample paint!
I will enthusiastically recommend finding a non-toxic finger paint – and also admit, I just use whatever I have (usually acrylics). Every parent can use their own judgment on this one, but if you are using something potentially hazardous, be sure to get ALL of it cleaned up off of hands, feet, anything in the nearby vicinity and any eating surfaces as quickly as possible once you're done working. After wiping Raya down with my washcloths at-the-ready, she goes into the bathtub. Her high chair tray gets wiped down and then goes right into the dishwasher. As always – just be smart about any medium you introduce your child to.

So once everything is prepared not just for art-time, but for a quick cleanup as well, I just paint her hand (or foot) with a paintbrush,
And help her place it.
That's it! If it's not perfect, that's OK! It's still sweet, because it's your kiddos prints, preserved.
This is the one we just did for Valentine's day. I have incomplete hands here, and some experimental smudges by my little artist up in the corner. It doesn't really even resemble the heart I was going for, so I outlined it (sheesh, mom's no better artist than the baby!)

So cute, right? And you're only limited by your imagination!
I would love to see the hand and footprint art you make with your kiddos! If you have a fun design idea you want to share, be sure to leave a comment, or drop by Happy Hour Projects to let me know!
Thanks for having me, Brooke!!
~ Adrianne